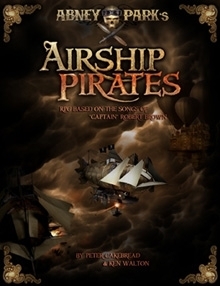 BUY PAPERBACK


BUY DOWNLOAD


Someone screwed the timeline up.
It's 2150. The Earth's recovering from the Great Apocalypse of 1906.

From the steampunk sky-cities of Isla Aether and High Tortuga come the airship pirates.You hoist the Jolly Roger, spin your propellers and take to the skies. Yours is a life of adventure, plunder and infamy.

The American wilderness lies below. Beast-haunted wastelands are criss-crossed by the tracks of the freedom-loving Neobedouins. Armoured railroads connect the Emperor's widely scattered domains.

In the walled, fog-shrouded cities, people huddle in forced Victorian squalor, lorded over by the upper classes. The Emperor's clockwork policemen patrol the streets and the ultimate threat of the Change Cage hangs over those who would rebel. Rising from the dockyards, the frigates of the Imperial Air Navy patrol the clouds, hunting pirates and threatening the sky-cities.

You've got an airship. You've got a crew. You've got one of Doctor Calgori's fancy chrononautilus devices. All you need now is a good swig of rum (trust us, you'll need it), and you're ready to set sail on the winds of time and plunder history itself!

Who knows, maybe you'll even screw up the timeline some more?

This is a beautiful, full color book complete with maps, charts, and illustrations that detail the world of Abney Park that you've been hearing about in songs for years. Even if you've never played an RPG, if you're a fan of Abney Park you'll enjoy learning about the cultures, places, and peoples of this world.

AMAZING ARTWORK

We have had amazing artists from all over the world contribute to this book. Artists from America, England, Germany, Norway, Turkey, and many other places have all been drawing and painting to create the unique steampunk-multi-culture feel of Abney Park's Airship Pirates. Just this artwork alone is worth the cost. This will make a beautiful coffee table book.

FIRST LOOK AT THE WORLD

Also, the game writers, Peter Cakebread and Ken Walton, have been doing an amazing job detailing the world of Abney Park. They studied the huge library of Abney Park songs, and read an advanced copy of the Abney Park novel The Wrath Of Fate, and then wrote like feverish deamons for months to fill in the gaps and create this detailed look into a world thats been forming in my head, and the collective brains of Abney Park fans, for nearly 25 years. (Songs like The Change Cage, and Cellophane Wings predate the band Abney Park, yet play a HUGE roll in this new world.)

Even if you never play the game, you will enjoy reading the detailed history of the world of Abney Park.

THIS IS NOT A ONE-OFF, STAND ALONE
There is additional suppliment books, figurines, and expansions, and more is on the way!