There are too styles of shows that Abney Park plays, and the pricing differs on each of these.
Touring/Local Shows
If we are already in your town, then the fee for your show will normally be either a flat cash guarrenty (for private events) or a percentage of the door (for public events).
One Offs & festivals
For events where we travel to your town to perform your event, the requirements are as follows:
2 Hotel rooms for the night prior to our performance, and the night of our show
Round trip airfare for 5 from SeaTac to a local airport near your event. The airline needs to be Southwest, Alaska, or Jet Blue (there baggage rules allow us to bring our gear. Other airlines wont). And the flights times are up to us, but we will try our best to be considerate of pricing.
transportation from the airport to the hotel and back again. Transportation from the hotel to the venue and back, the night of the show.
A table to sell our merchandise in a prominent location, during the duration of the festival.
Cash guaranty due the night of our performance. This will very due to the demand of the night, and our scedual. (For Example: Halloween night we are in higer Demand they say, Feb 24th.)

Feel free to contact us directly regarding performance details. Also, you can download our technical specifications here. Or view our live performance contract.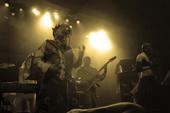 Abney Park Live in Portland